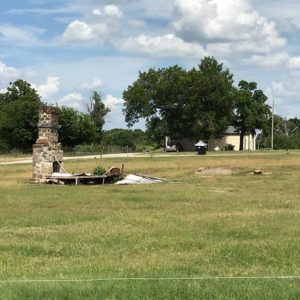 At the end of a workday in July 2018, I found myself on Highway 7 west of Davis, Murray County, Oklahoma. When Indian Meridian Road appeared on the north, I made a quick detour to set my eyes on the site of Fort Arbuckle.
This early Indian Territory military outpost was the starting point for the Fort Cobb Trail and, as such, figures significantly in the history of the entire trail itself. So, it was good to see it with my own eyes.
I was surprised to see a small village at the site. Several modern houses and a barn or two surround an open, neatly mowed circular area that clearly pays homage to this important Indian Territory outpost.
A lone chimney, a yawning old cellar and a few bits and pieces are all that remain. The trees on the grounds are broken and canted and appear very old.
Like so many places I've visited lately, it was profoundly quiet at old Fort Arbuckle even though an old man with a fine zero-turn mower was working industriously nearby. Or maybe it was just me that felt quiet, pondering something that in Indian Territory terms is so very old and important.
The country is rough out there and still as empty as it always was. It was striking to realize that the only thing missing from the miles of Oklahoma hills were traces of the old trails that laced the area in the earliest days.