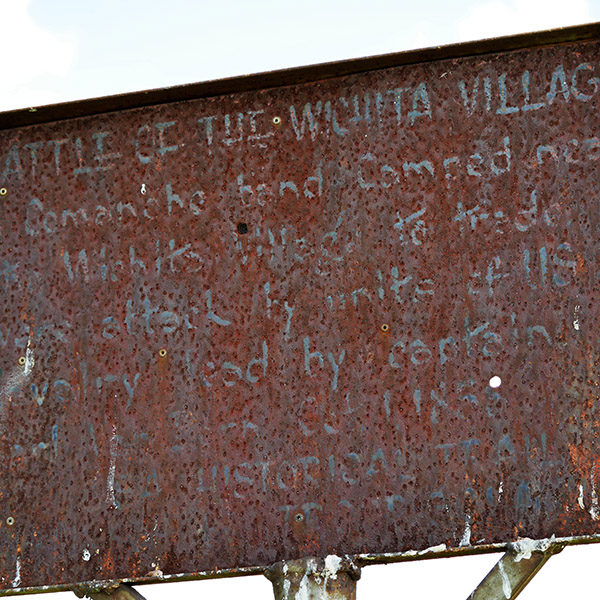 In 1858, residents of the young state of Texas were much up in arms about continuing attacks on their citizens by the formidable Comanche Indians. Captain Earl Van Dorn was stationed at Fort Belknap south of present-day Wichita Falls in Texas when it was determined that the US government could not adequately protect the state. Van Dorn was placed in command when orders were received instructing Texas troops to go on the offensive against the Comanche and confront them in Indian Territory.
Captain Van Dorn and four companies of the 2nd Texas Cavalry and one company of the 5th Texas Infantry were camped near the present-day site of Tipton, Oklahoma, when they received intelligence from the Wichita tribe reporting that a large contingent of Comanche were encamped near a sizeable Wichita Village located on Rush Creek southeast of where Rush Springs is today.
Unbeknownst to Van Dorn, the Indians were there because the commander at Fort Arbuckle, only 40 miles from the Wichita Village, was trying to work out a peace accord with them.
In a classic "right hand not knowing what the left hand was doing" move, Van Dorn and his men ran hell for leather to get to the Indians gathered on Rush Creek. They staged a surprise attack on the Wichita Village at dawn on October 1, 1858.
The battle continued for over an hour and after the smoke cleared, an estimated 70 Indians were dead. The Wichita's winter food stores were destroyed, forcing them to seek shelter at Fort Arbuckle. They would never again live in their native state in the wilds of their traditional homelands in what would later be known as Oklahoma.
The bumbling US Army did not come away completely unscathed from the Battle of Wichita Village. One promising young officer, Lt. Van Camp, was shot through the heart by a Comanche arrow and died on the spot. Several other soldiers were killed or injured and Van Dorn himself sustained a wound so severe that he took months to recover.
________________________________________________
Today, I visited the vicinity of this historic battlefield, located only around 12 miles or so southwest of Alex as the crow flies. The adventure took us almost three-quarters of a mile from a paved road.
With my son-in-law piloting my daddy's beast of a Ford-F250, with permission from the landowner we followed a grassy two-track south past a group of sharp-eyed donkeys gathered under a massive cottonwood that might well be 100 years old. We pushed on through a (thankfully) dry low-water crossing and then put the truck in 4-wheel high to cross a patch of recently plowed Rush Creek bottom land.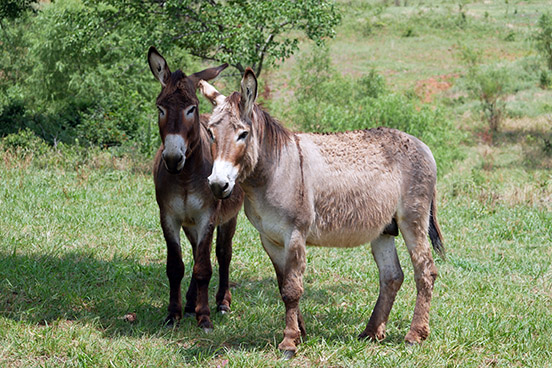 A tell-tale stretch of water grass of the type the Wichita used to built their grass houses gave hints as to the course of Rush Creek before modern men and dozers tamed it to suit the needs of agriculture.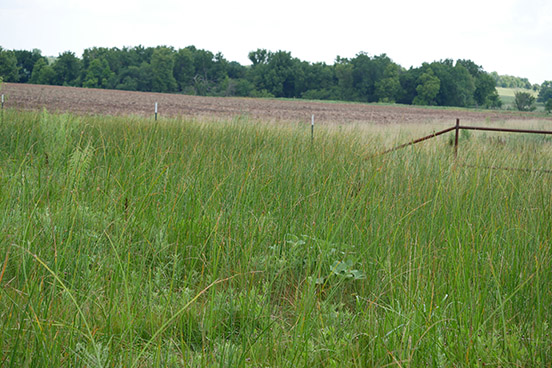 Several gates later, we began to climb steep terraces to the top of a rather majestic ridge in the middle of nowhere, Oklahoma. A lonely blackjack, a headless windmill and an open cellar topped with mortared native stone graced the crest of the hill along with a weathered iron sign whose barely legible legend faces the north:
"A Comanche band camped near the Wichita Village to trade was attacked by units of US Cavalry led by Captain Earl Van Dorn, Oct. 1, 1858, Historical Trail…" and the rest is unreadable.
I don't know who set the monument on the top of that distant hill was set years ago by a local boy scout group.
The Wichita Village on Rush Creek may have been comprised of as many as 100 of their trademark grass houses. Its precise location has been lost to history and I understand that OU and OSU have looked for it for the last two summers without success. The exact site of the battlefield is also uncertain.
It was Oklahoma hot at the crest of that lonesome hill today. Ninety-five degrees or more with a cloying humidity in July, just like it no doubt was in the summers when the Wichita made their home along Rush Creek almost 200 years ago.
The view seemed like forever from the hilltop. Although no one knows for sure exactly where the village was located or where the battle occurred, I had no doubt we were close by and were witness to the site of yet another ambiguous chapter in the history of Indian Territory. And this one barely 12 miles from home…