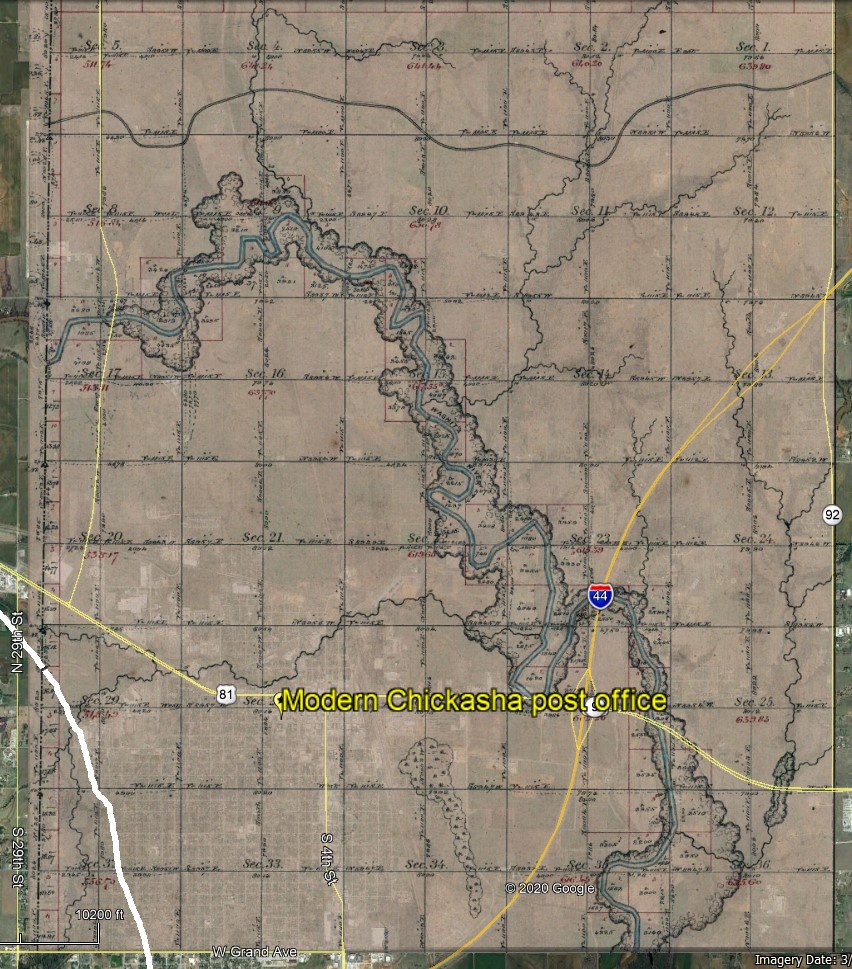 Our Chickasha friends don't get a great deal of love in Stories from the Road, for one reason only: During the time I've written about, there was nothing there!
The graphic above was produced by geo-referencing the 1872 land survey of T7NR7W (known today as the Chickasha township) and a modern satellite image. The survey plat isn't square because the western boundary of this township marked the western edge of the Chickasaw Nation and Indian Territory. That's where the first survey of the Chickasaw Nation ended. Land surveys didn't take place in Comanche and Kiowa territory until 1873 and 1874.
Note the interesting road north of the Washita from the future town of Chickasha. Perhaps I'll follow that road in another book. Or maybe one of you can follow it. For purposes of my upcoming story, however, that first road runs south of the river.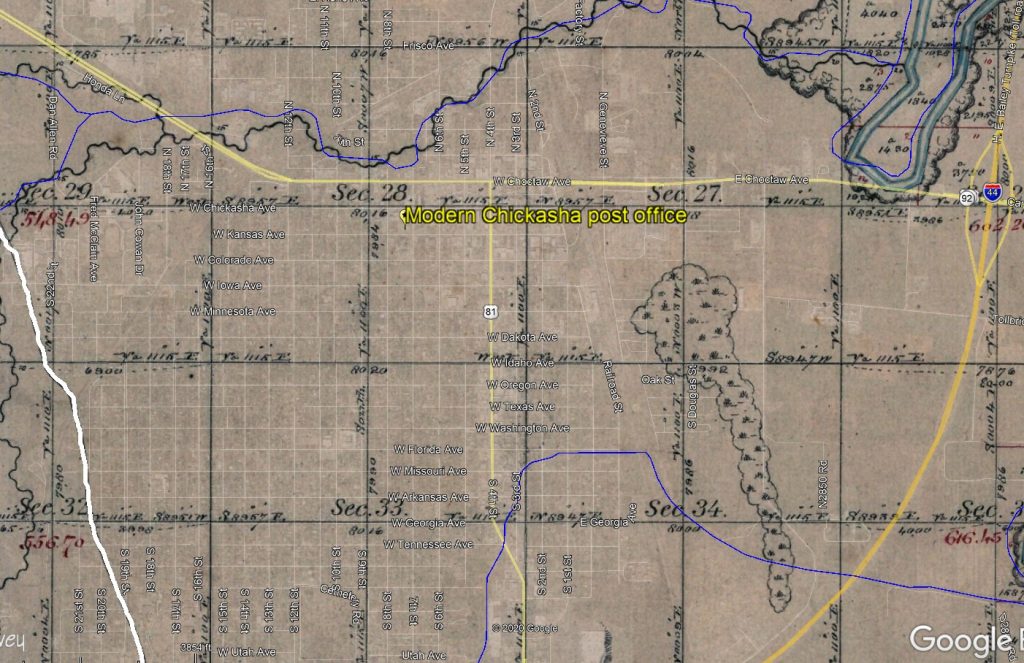 The second graphic is a geo-referenced enlargement of the survey plat shown above. This images shows a better view of Chickasha today. Note that the white line on the graphic traces the route of the Fort Cobb Trail through the area.
Everything said, it's not like Chickasha doesn't figure in Stories from the Road. When we think of the town, we have to think in terms of of Line Creek, its primary Washita River tributary. We have to think the same way about Alex, which was only Soldier Creek in the beginning. Line Creek in the area that would be Chickasha was settled by intermarried Chickasaw tribal members between 1881 and 1883, around a decade before the railroad came and the ragtown that would be Chickasha first sprung up.
The Line Creek area was just as wild and dangerous as the rest of the northwestern Chickasaw Nation. In fact, the area where the Dairy Queen is now located on Choctaw Avenue was the site of one of my favorite stories in the book, entitled "Murder at the Swinging Ring." I hope you'll love the tale as much as I do.
Over time, I'll have much more to say about the county seat of Grady County. Only the earliest bits are in the book. I have sorted out the earliest Chickasha history for the first time and am in possession of the first Chickasha post office document and the earliest known map of the town of Chickasha, which shows the location of EVERY SINGLE building in the rapidly growing village!
So, yes, Chickasha is important and it dominates our Grady County history. Pauls Valley does the same with Garvin County and Anadarko in a way sometimes stands in for the the history of Caddo County. When we go back in time, though, Chickasha and even Anadarko must wait their turn. Although we are all connected in a fascinating way, there are older places along the road and it's time their story was told…